Interviu cu TRAXX
30 Iunie 2010 | real_drum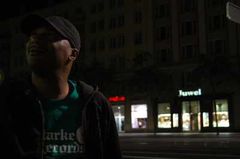 DJ-ul si producatorul din Chicago, Traxx aka Melvin Oliphant III a acordat un interviu recent site-ului Sounds-like-me.com. Il recomand cu incredere!



You are known for including all kinds of advanced electronic music from the past in your sets. Is this music a blueprint for what interests you musically? Does the music of Das Ding contain elements that you actively look for? What role does this music play in your Jakbeat concept?
If I understand your question right, you are asking if this music influences me when I am producing my own music? And I can only answer with: YES!
It definitely inspires me, and when it comes to Jakbeat… To me this IS Jakbeat. Period. I always stated the following: "Jakbeat is a state of mind and different level of musical consciousness. This sound was influenced from the early inception of dance music." And that's exactly what Das Ding is for me, it is an early inception of another side of dance music.
There are quite a few producers and DJs from the house and techno scenes of Chicago, Detroit or New York that cite music similar to Das Ding as important influence on their work. Apparently it still surprises a lot of their listeners that they were educated about the variety of disco styles as well as Industrial, Post Punk and other related music. Is this a stereotype that annoys you, that artists from a certain background are not supposed to be fans of a certain sound?
It's not really a stereotype to me, nor is it annoying me. I just don't really care much about what their influences have been. The point is this if you name certain groups and musical pioneers as influences, why are you not playing them in your sets anymore, if at all? That's what I wanna ask.
You often stress that you place yourself in the tradition of Ron Hardy and Larry Levan, both DJs who were known to take risks and who had a very eclectic taste in music. Did you actively witness them play music in the vein of Das Ding?
No, not really. But I place myself in the tradition of the "spirits" of those two main influences on how I like to play records. That doesn't mean that I only play exactly like them, but to me what matters is: "If these people would still be alive today, would THEY play it? Or if they would have known about that music back then, would they have played it? Ron Hardy always played stuff that was new, exciting, and he would deliver these sensations in a uncompromising way. That's what I do, at least thats what I am trying to attempt. Ron Hardy played Liaisons Dangereueses and stuff like that, sure… but to me what matters the most is that he branched out of the common sense of the dancefloor and made people lose their minds on the music. When I name him as one of my main influences, then I am talking about that certain attitude when it comes to playing records and taking risks to give people something they haven't heard before.

Apart from the clubs Ron Hardy played at, where could you hear this music in Chicago? Do I understand correctly that for example Club Medusa, the club that inspired Jamal Moss to do a series of according edits of post punk, EBM and industrial music, was such a club?
Yes, the Medusa was a club that would cater that particular kind of music. I went there a couple of times and had the honor to play there several times as well and never heard Das Ding tracks being played out, but I definitely heard some music in that vein, music I have never heard before in my life. What Jamal is doing is taking his own ideas of what has happened back in those days, and give his very own reflection to the listener. As of now, Jamal has done very special products for the Medusa Edits.
A lot of Das Ding's music was originally released in cassette format. I remember that there was a very vital cassette label scene in Europe during the 80's. Each month there were hundreds of releases on cassette, and the important music magazines tried to filter the output in specialized review sections. Was it similar in the US? Did you buy music on tape that wouldn't have been released in other formats?
I bought music on tape, don't get me wrong here. But in the early 80s, my perception of that music was literally not there. I didn't read those type of magazines that you mentioned. I was more occupied riding my bike, playing videogames and watching people breakdance on the street. I was just a kid back then, and I didn't find out about this type of music until later.

Puteti lectura interviul integral pe www.sounds-like-me.com/news/rewind-traxx-on-h.s.t.a./
Postari recente
Cele mai citite bloguri