AYOE ANGELICA - Denmark is amazed
16 Iunie 2010 | real_drum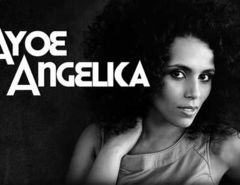 Un articol personal care nu a mai ajuns unde trebuia sa ajunga, din motive suspecte.


When thinking about the modern Danish "lo fi jazz" local music scene, you can hardly miss 21 years old Danish / Ethiopian singer Ayoe Angelica. She describes her work as a combination of soulful vocals, acoustic elements and crunchy electronics, complemented with a touch of lo-fi jazz. Even if this sounds a bit intricate to actually get, last year's debut album "I'm amazed" gave her the homage on the international modern jazz / pop oriented music scene.
Ayoe started singing before she even knew talking. She realized she can take it more significantly around 14-15 years old, and after meeting producer Mads B B Krog she ended up last year with successfully received "Sugar" and "Dr. Jekyll" popular singles and a full debut material. Ayoe was determined that 10 percent of the profit from I'm Amazed went to relieve poor children in her second home country.
Describing herself as "self-ironic, emotional, pleaser, confident and amazed" girl, Ayoe was born and raised in Denmark and even if most people consider her completely Danish, Ayoe's mother is from Ethiopia. Little singer herself went there, when she was around eight years old and admits this was a pretty big experience. Now she bets that if she returns there, everything will seem different; even she remembers a lot from her trip to her mothers' homeland. She spent the childhood with music; her parents would take her to concerts, give her music they consider she could learn something from. She then would learn playing piano, even though their parents have one in house but didn't know to play.
When it comes to music, Ayoe truly sees it as the main occupation. She has developed a great working-relationship with her producer, the same one who previously worked with the likes of Faithless, DJ Aligator, DJ Encore, C-Stones, Julio Iglesias and other local and international artists. With top chart positions and several Music Award and Upfront DJ Award nominations, Mads B B Krog, Ayoe's producer, seems to master equally the mainstream pop and the electronic upfront and club scene. Mads' own project in the past years have been Plateaux Techniques, a wide range of collaborations with artists from various genres of music.
Ayoe primarily sings for herself, but everyone who feels like listening is more than welcome. You may enjoy it. Sometimes romantic and melancholic with a taste of soul/jazz, sometimes cheerful with some pop touch, her music innocently shines from the country of Hamlet searching for new souls. Ayoe's own is excited about the new way things started to shape, regarding her music career. Even she admits she has learn a lot from the studio work spent in the last year, Ayoe's main specialty remains her own voice, the one which can convert musical styles and perceptions, creating her own unique thing. Is the powerful voice that gives integrity to the music? Maybe, if we take in consideration the fact that most of the tracks have Ayoe's own vocals on it.
21 years old only, Ayoe seems to know what she wants from the music scene, having already made two videos (both made by the Danish director Niels Kjær Olsen who also did the videos of Ida Østergaard' s "On his Knees" Birk Storm's "I don''''t care") and preparing her new album in the next year. Speaking of this, the new album is already anticipated on the music bizz. Ayoe plans to feature some new vocals on it, thinking on some German singer, or any other interesting collaboration. As she's young, she has a lot of ideas and dreams to fulfill, so the first one coming up next seems to be her second album.
Ayoe is amazed by many things, in common. Even though, the title of her debut album is much more the description of how the album was created, the amazing process. And titles with some personal touch on it are always working better on the scene. But digging into the track list you can find romantic disillusionment, jazzy contrasts, rock influences, bluesily pensive, even a tribute to Billie Holiday with a cover of "God Bless the Child". Having so many influences on it, it shouldn't surprise that iTunes ranked Ayoe in their top ten jazz category, even though this can confuse the audience who expect the genre to be actually right. But it definitely features some jazz sounds such as trumpet and a woodsy, acoustic bass. With a dreamy attitude, powerful vocals, romantic and childlike, her first music album invited the listeners from the foremost to meet her, as the face of a innocent-luxurious-Danish-pretty-girl appears on the artwork of the LP.
When she's not ruining her time with music, Ayoe also likes traveling and admits she can be found a lot at Denmark's' coziest café called "Christianshavns Baadudlejning", dating from 1898.
Postari recente
Cele mai citite bloguri