Concerte si Evenimente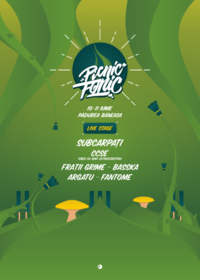 Picnic Fonic Festival - Padurea Baneasa
Data:
10 Iunie 2017 - 11 Iunie 2017
Loc:
Bucuresti
, Padurea Baneasa
Pret:
45
Ladies & Gentlemen, At its second edition in 2017, PICNIC FONIC comes back with a stronger, better and louder summer experience for MUSIC ADDICTS & HIGH-VIBE TRAVELERS. It is a mix of contemporary urban delights.
A carefully selected line-up for all those music connoisseurs which goes from electronic music to live performances and experimental music acts. Combined with leisure & entertainment spots for both daytime & night time, during all 2 days of THE MOST-WANTED SUMMER GET-AWAY IN THE CITY.
Counting on an extra sensorial experience we introduce a bigger FOOD zone dedicated to Romanian street food brands.
Picnic's food & beverage partners will exhibit culinary experiences across the whole weekend during the event.
Taking advantage of the location, a superb forest near Bucharest, the sun and the energy of the forest will bring people together andt here will be special area dedicated to some recreational activitiesfrom sports fields & leisure.
LINE-UP
Live Stage:
Subcarpati / Cred Ca Sunt Extraterestru / Fratii Grime / Basska / Argatu' /Fantome
Deep Stage
Line-up Release - 10.04.2017
Techno Stage
Line-up Release - 18.04.2017
TICKETS
1st tickets release – 05.04.2017 – 24.04.2017 – 45 Ron/ 10€ (limited number)
2nd tickets release - TBA
3rd tickets release - TBA
VENUE
Baneasa Forest (Padurea Baneasa) - Federatia Romana De Tir Sportiv
www.picnicfonic.ro
More TBA.
Biletele se gasesc in format electronic pe www.iabilet.ro si in reteaua fizica iabilet.ro/retea: Magazinele Flanco, Metrou Unirii 1 langa casa de bilete Metrorex, Magazinul Muzica, Magazinele IQ BOX - Telekom, Cafe Deko, Club Vintage, Club Quantic, Hard Rock Cafe, Beraria H, Agentiile Perfect Tour, Magazinele Uman si pe terminalele self-service ZebraPay din toata tara.
Calendar evenimente
1
2
3
4
5
6
7
8
9
10
11
12
13
14
15
16
17
18
19
20
21
22
23
24
25
26
27
28
29
30
31