Concerte si Evenimente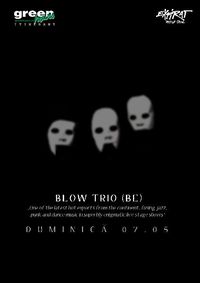 BLOW Trio (BE) / Expirat Halele Carol / 07.05
Data:
07 Mai 2017
Loc:
Bucuresti
, Expirat Halele Carol
Pret:
30-40
Green Hours Itinerant la Expirat: BLOW Trio (BE): Young Belgian band, "BLOW Trio" is one of the latest hot exports from the continent, fusing jazz, punk and dance music in their superbly enigmatic live stage shows.
Sometime referred to by fans as "drum & sax", this young band cut their teeth in underground clubs across Belgium and the Netherlands and have been known to perform flash street performances in some very unusual settings.
Their pioneering style and appearance quickly gained them notoriety online where in no time at all they had amassed over 10,000 followers for their outlandish shows and soon they had caught the attention of major national promoter Live Nation who instantly snapped them up for representation in their home country.
The band went on to electrify audiences at festivals in France, England, Spain and even Brazil playing to thousands at the legendary Copacabana Beach in Rio. Now, for the first time, in Romania.
Band members:
1: Tenor Sax
2: Tenor Sax
3: Kick Snare Hihat
Video: http://www.youtube.com/watch?v=ud1KKLNpbas
Site: http://www.blowtrio.be
Facebook: https://www.facebook.com/blowtrio
SoundCloud: https://www.soundcloud.com/blowtrio
Acces: 30 lei - in pre-sale / 40 lei - la intrare, in seara evenimentului
Biletele pentru acest eveniment sunt disponibile online pe www.iabilet.ro si in reteaua iaBilet.ro: Magazinele Flanco, Metrou Unirii 1 langa casa de bilete Metrorex, Magazinul Muzica, Magazinele IQ BOX - Telekom, Cafe Deko, Club Vintage, Club Quantic, Hard Rock Cafe, Agentiile Perfect Tour, Magazinele Uman si pe terminalele self-service ZebraPay din toata tara.
Calendar evenimente
1
2
3
4
5
6
7
8
9
10
11
12
13
14
15
16
17
18
19
20
21
22
23
24
25
26
27
28
29
30
31