Concerte si Evenimente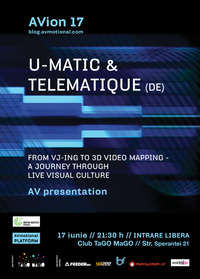 AVion 17 @ Tago Mago
Data:
17 Iunie 2010
Loc:
Bucuresti
, Tago Mago
u-matic + telematique
Two Berlin based visual artists and motion designers that have collaborated on projects,
live video performances and video installations.
Sven Gareis | telematique and Ute Harting | u-matic have made a name for themselves since 1998 with their subtle, technically skilled and increasingly minimalistic approach to visual music.
Together with the light designer Clemens Lüft they form the trio "u-matic & telematique &
LFT" and work on kinetic and interactive light installations.
Links:
www.u-matic.de
www. telematique.de
http://blog.avmotional.com/update/
Calendar evenimente
1
2
3
4
5
6
7
8
9
10
11
12
13
14
15
16
17
18
19
20
21
22
23
24
25
26
27
28
29
30
31